Background to the Lendy Memorial

To the memory of
Charles Frederick Lendy Captain RA
Who died at Buluwayo South Africa 15th January 1894 aged 30 from the effects of
the Matabele campaign throughout which he served in command of the guns
with indefatigable zeal and conspicuous bravery
And of
Edward August William Lendy DSO
Killed in action 23rd December 1893 at Warina West Africa aged 25 Captain Sherwood
Foresters and Seconded as Inspector General Sierra Leone Frontier Police
The only sons of the late Major A F Lendy of Sunbury-on-Thames
This fountain has been erected in their native village by their friends
as a tribute to the memory of two brave men
Other memorials, one for each brother, were erected at different locations. The younger brother, E A Lendy, is remembered in Sierra Leone. There was a monument to CF Lendy at Bulawayo in Zimbabwe, although this may have been destroyed given the current political situation in that country.

Charles Frederick Lendy
There is a comprehensive account of the life of Charles Lendy in
"Captain CF Lendy - A Victorian Hero?" By Major R Marston RAEC
Army Quarterly & Defence Journal, 118 (2), p203, 1988
In addition, this website concentrates on CFL's role in the founding of Rhodesia. He was instrumental in introducing the Maxim machine gun to warfare, and is sometimes referred to as "Maxim" Lendy.
According to the Army Quarterly and Defence article, he collapsed and died of peritonitis on 15th January 1894. Elsewhere, another interpretation places him at the Tati Hotel (in Botswana) where his illness was attributed to a heavy bout of drinking and eating. CFL's demise was reported in the News of the World on 21st January 1894.
Edward August Lendy
Edward August Lendy was, perhaps, the more heroic brother. He was posted in Sierra Leone where received a Distinguished Service Order for services to the colony. In the Autumn of 1893 he bravely rescued several of his men from drowning during an ill advised river crossing. For this he was awarded the Silver Medal of the Royal Geographic Society.
However, he never collected this as he was subsequently killed in a case of "friendly fire" by French forces with whom the British were allied. This tragic event occurred at Waiima on 23rd December 1893. These events were reported in the News of the World on 7th and 12th January 1894.
The medal images were taken from the website of his school, Haileybury in Hertfordshire.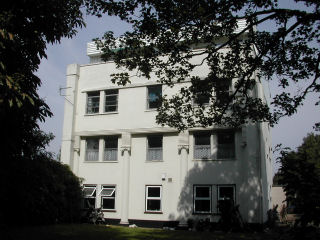 Major August Frederick Lendy
Major Lendy ran the Sunbury Military Academy at which both of his sons received training. Only the East Wing, at the end of Loudwater Close, remains. The central section was destroyed by fire at the end of 1915. The West Wing survived, later as a two storey building, until the 1970s, when it was demolished to make room for a new housing development including "Academy Court".
AFL also authored "Elements of Fortification", a text for "the use of students, civilian and military". This was published by John W Parker and Son of The Strand, London in 1857.